DISCOVER
Beautiful Nearby Beaches
Sand and sea for miles - some of our top picks!
Stunning Tenby and Saundersfoot
Tenby South Beach: Picturesque South Beach stretches all the way from Tenby to Giltar Point at Penally - offering one of the best views of Caldey Island and back towards the town.
Tenby North Beach & Harbour: The most sheltered of Tenby's golden beaches, North Beach is great for swimming and water sports. Plus the views of Tenby's famous harbour are fantastic! A stroll around the harbour itself is also a must.
Saundersfoot Beach & Coppet Hall: Sheltered Saundersfoot Beach is very close to the pretty harbour, shops and restaurants making it a favourite with families. It runs into Coppet Hall beach which is popular with paddle boarders thanks to Good Trails SUP School and the handy carpark.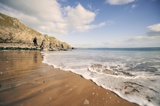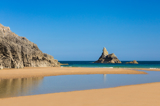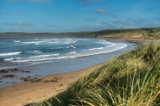 Slightly further but worth the journey
Barafundle Bay: This secluded, sandy beach is backed by dunes and surrounded by cliffs, and is often considered one of the most beautiful beaches in the world. We'd have to agree!
Broad Haven South: Either reached from the National Trust carpark up on the cliffs or via beautiful Bosherston Lily Ponds, this picturesque beach has a huge natural pool making it popular with young families looking to escape the crowds.
Freshwater West: This wild and remote beach is popular with surfers and is surrounded by sand dunes and cliffs. It's also the location of the shell cottage in Harry Potter and the Deathly Hallows, so don't forget to seek out Dobby the House Elf's 'grave'!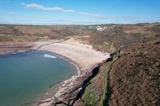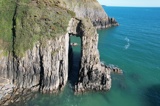 Some of our lesser known favourites
Manorbier Beach: This gorgeous sandy beach is overlooked by an imposing medieval castle and is popular with families and surfers. The stream and rockpools are great fun for little ones!
Wiseman's Bridge: With ample free parking above the beach, plenty of rock pools, a fab stream to play in and the ever popular Wiseman's Bridge Inn at your fingertips, this is a firm favourite with visitors and locals!
Skrinkle Haven and Church Doors Cove: Not far from Manorbier you'll find secluded Skrinkle Haven and Church Doors Cover, reached via a short walk along the stunning Coast Path - perfect for escaping the crowds and listening to the roar of the waves.