Sample The Local
Restaurants, Bars & Takeaways
Some of our favourites...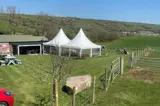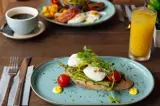 Brunch & Lunchtime favourites...
Bubbleton Farm Shop & Kitchen is a firm favourite, less than 10 minutes drive from Florence Springs. With delicious home-cooked food, farm animals to feed and plenty of outdoor space to run free, it's the perfect relaxed destination for families.
The Rowan Tree Café in Lamphey has a similar relaxed feel where children can roam free, the food is delicious and there's often live music on weekends!
In Tenby itself you'll find an array to choose from including Ronni'z (great brunch), The Lounge2, Caffé Vista (a taste of the Med with fantastic harbour views) or beautiful Fuchsia Café (great breakfast) - as well as popular Pembrokeshire Pasties for a bite on the go!
And in Saundersfoot you're spoilt for choice with Butternut Pantry, Shoreline, Periwinkle and The Tramway (great with dietary requirements) to name but a few.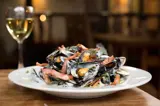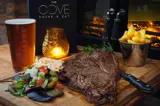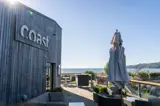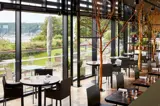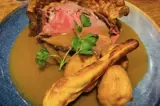 Dining out in the evening
Wow, where to start! Just a short drive (or taxi) away you'll find Tenby and Saundersfoot; both offering a fantastic array of restaurants.
In Tenby, head for The Baytree, The Cove, On George's, The Qube, Plantagenet House, Harbwr Tap and Kitchen, Twelve,  Japanese-inspired Umi, Italian Il Caminetto or beachfront Salty's - to name just a few!
And if you fancy a drink before or after, check out Morgan's cocktail bar (who also do a wonderful afternoon tea!), The Lifeboat Tavern, Tenby House, The Hope & Anchor and not forgetting lively Bar 10 where you'll often find live music.
Meanwhile in pretty Saundersfoot you'll find The Mulberry, The Stone Crab (specialising in local seafood), The Boat House, Harbwr, Australian-themed Kookaba (a firm favourite with meat lovers!) as well as fine dining at beautiful Coast overlooking Coppet Hall beach.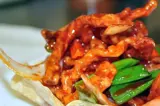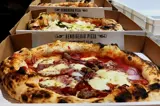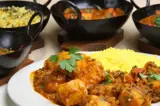 Tasty takeaways
If Chinese food is a favourite, check out popular Dragon Palace in Pentlepoir, Tasty Café and China Town in Tenby or the Star of Saigon in Kilgetty - all within 10 minutes' drive.
For Indian, it has to be Seven Spice in Kilgetty or The Bay of Bengal in Tenby.
If you're craving pizza, we highly recommend Top Joe's in Tenby - mouth-watering, freshly-made artisan pizzas!
And for something a little different, how about super fresh, healthy & delicious Japanese influenced dishes, all cooked to order and available to collect from Umi in Tenby? (But call to check availability of takeaways)